GFCE Internet Infrastructure Initiative (Triple-I)
What is Triple-I?

The GFCE Triple-I initiative is meant to facilitate awareness raising and capacity building events in different regions of the world in order to enhance justified trust in the use of Internet and/or email in those regions (specific priorities to be determined by stakeholders in the region).
The GFCE Triple-I seeks to build upon and complement existing know-how, enhancing justified trust in Internet connections and email exchanges through awareness raising on a number of state-of-the-art open internet security standards and instigating take up of those by building on good practice experiences.
Local and regional actors are stimulated and supported in setting up and running local/regional events between regional stakeholders, bringing in local expertise, when useful. The initiative builds on the experience of years of events around the world (2018, 2019, 2022), and is firmly embedded in the GFCE's mission of strengthening cyber capacity and expertise globally through international collaboration and cooperation.
Building a Robust, Open and Resilient Internet Infrastructure
The continued operation of the Internet relies on international agreements on the exchange of data between computers around the world. These international agreements are referred to as Internet standards protocols.
As the Internet has grown to facilitate more users and services globally, the technical infrastructure which underpins the modern internet has simultaneously had to develop to be adapted to new uses and safety requirements which were not originally envisaged by its creators.
Whilst many existing internet standards have been updated or made smarter and new standards have been created to ensure the internet remains reliable and resilient, older and outdated standards are still in use. This practice is not just limited to the average end user of the internet, but also applies equally to the business sector, Internet Service Providers and governmental bodies.
A robust, open and resilient Internet infrastructure is key to counter infringements and threats to the cyber domain. An up-to-date internet infrastructure diminishes the chances and impact of cyber attacks (for example, DDoS) and cybercrime attack vectors, including hacking, malware, phishing, botnets and SPAM. Moreover, a robust Internet leads to more confidence and justified trust, supporting increases in the use of the internet and as a consequence boosts innovative and economic activities.
Hence, a state-of-the-art Internet infrastructure is a prerequisite for sustainable economic growth and reaping social benefits of the Internet. The initiators believe that an open, safe and stable Internet requires continuous investment in the development of its infrastructure by public and private stakeholders.
The initiators provide a platform for the sharing of technological solutions, best practices, knowledge and expertise amongst stakeholders that seek to increase the justified trust of internet users in their region. Through offering and supporting regional events, priorities of specific interest for that region can be identified and pathways to further cooperation developed alongside stakeholders key for impactful implementation.
Currently supported Standards
GFCE Triple-I promotes the use of the following internet standards. This is not an exhaustive list of standards. Given the continuously developing nature of the Internet changes, new standards can be added to this list when appropriate. Suggestions are welcomed and are likely to come up through discussions in the context of GFCE Triple-I workshops. Suggestions can also be made to the GFCE Secretariat by sending an email to contact@thegfce.org.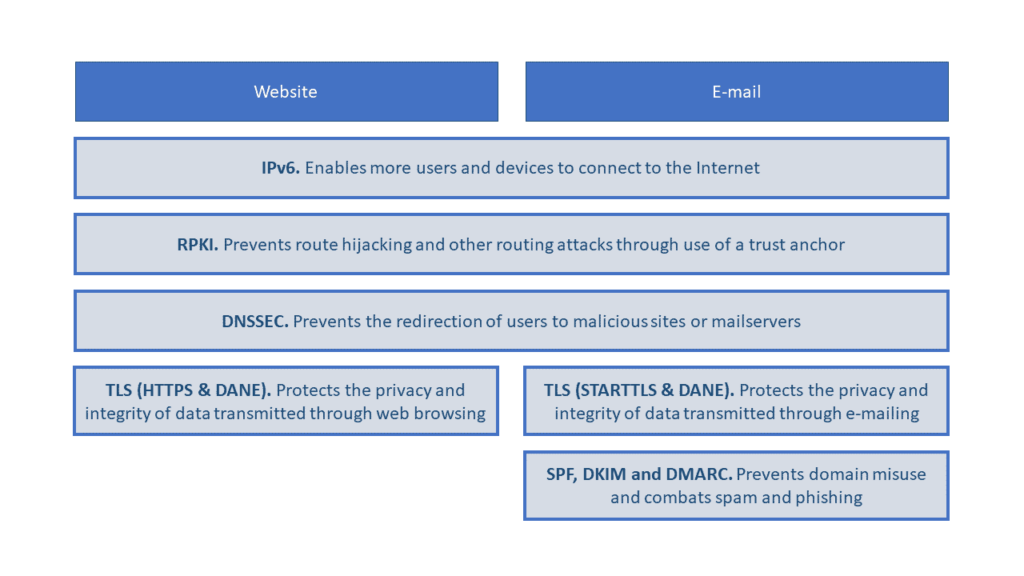 Reports and additional materials
Internet.nl
Following the experience in the Netherlands of the Dutch Internet Standards Platform in testing and monitoring compliance with international Internet standards, the GFCE Triple-I facilitators sought to highlight this as a best practice example that could be reproduced and applied in different regions. Since there is generally no lack of standards, the initiators want to stimulate, encourage and ensure stronger implementation using the existing portal and test tool (https://www.internet.nl/) as a key example.
Contact
For further enquiries about the GFCE Triple-I initiative, please reach out to Maarten Botterman, GFCE Triple-I Coordinator, at contact@thegfce.org.