Inaugural GFCE Regional Director for Southeast Asia Appointed
The Global Forum on Cyber Expertise (GFCE), in partnership with the Cyber Security Agency of Singapore (CSA) has officially appointed Mr. Allan S. Cabanlong as the first Regional Director for Southeast Asia this week. This appointment marks a significant milestone in the establishment of the GFCE Southeast Asia Hub, following the creation of a Southeast Asia liaison position announced by Senior Minister Mr. Teo Chee Hean during Singapore International Cyber Week (SICW) in October 2022.
Allan, a distinguished cybersecurity professional with a two-decade career, brings extensive interdisciplinary expertise to his new role. Having served as the Assistant Secretary for Cybersecurity and Enabling Technologies of the Philippines Department of Information and Communications Technology (DICT) and concurrently as the Executive Director V of the Cybercrime Investigation and Coordination Center (CICC), he has played a pivotal role in shaping Philippine cybersecurity capacity development. Allan's notable achievements include authoring the National Cybersecurity Strategy, implementing the first National Cybersecurity Management Systems Platform, and organizing the Philippines National Computer Emergency Response Team. As the Regional Director, he will lead the GFCE Southeast Asia Hub, fostering collaboration and knowledge sharing among Southeast Asian countries and stakeholders to enhance cyber resilience in the region.
The ASEAN-Singapore Cybersecurity Centre of Excellence (ASCCE) will serve as the hub's home base, providing a conducive environment for collaboration and innovation. Established in 2019, the ASCCE has played a crucial role in advancing cybersecurity capabilities in the ASEAN region. By housing the GFCE Southeast Asia Hub, the ASCCE further solidifies Singapore's position as a cybersecurity hub and a center for regional cooperation.
The GFCE has been increasingly active in the Southeast Asia region on coordinating cyber capacity building. The GFCE held its Annual Meeting 2018 in the margins of the SICW and since then it has sought to improve representation in the region. At present, six ASEAN Member States are part of the GFCE Community with two in the pipeline. In partnership with CSA, the GFCE also holds its annual Southeast Asia Regional Meeting within the SICW program. With the establishment of the Southeast Asia Hub, and alongside its regional efforts in the Pacific, LAC, Africa and the Western Balkans, the GFCE aims to better understand regional perspectives and capacity needs and translate them into specific activities that support capacity building. The Southeast Asia Hub will therefore serve as a platform for addressing capacity building needs, sharing best practices, promoting initiatives, and facilitating dialogue between governments, academia, industry, and civil society organizations.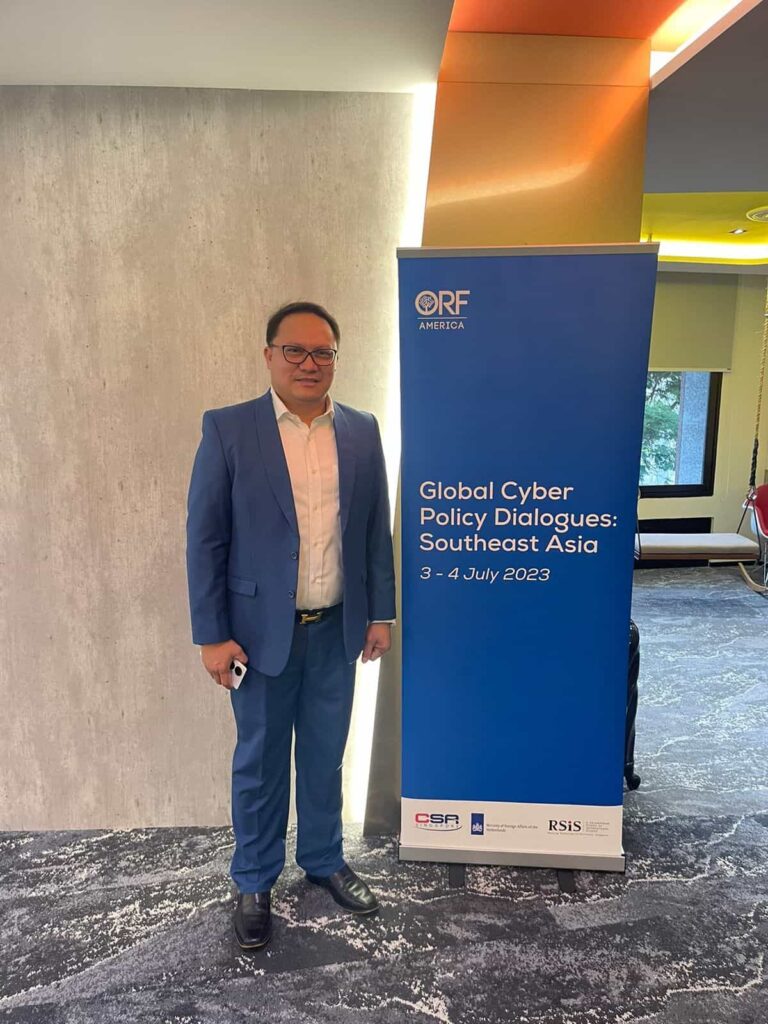 Mr. Allan S. Cabanlong at the ORF Global Cyber Policy Dialogue: Southeast Asia, July 2023.
During his first week, Allan participated in the ORF Global Cyber Policy Dialogue: Southeast Asia and engaged in discussions on capacity building priorities with representatives from ASEAN Member States. Expressing his enthusiasm for the role, Allan highlighted the potential of the GFCE Southeast Asia Hub to strengthen cybersecurity across the region. "I am honored to lead the GFCE Southeast Asia Hub and work towards building stronger cybersecurity resilience in Southeast Asia," he said. "Through collaboration and knowledge sharing, we can collectively tackle the evolving cyber threats and safeguard our digital future."