The Cyber Surakshit Bharat Initiative
Countries today face new and emerging challenges in cyber security that range from a constantly shifting threat landscape to managing multiple platforms and devices in the environment. The modern threat landscape has never been more challenging – driving tremendous costs and risk to the security of critical information. Security breaches can take 200+ days to detect. Protection from attacks begins with the implementation of security best practices and ensuring compliance across the environment. Organizations and Governments need to focus on four key areas for protection against modern security threats.
Identity Protection – Focus on attack vectors of theft of user credentials, malware, or a combination of both. If these areas remain exposed to attacks they are increasingly trivial for attackers to exploit.
Information Protection – Focus on trusted software, identity and data protection that guard's information at rest, in use, and in transit. If these areas remain exposed they lead to data breach.
Threat Resistance – Focus on identifying the polymorphic and just-in-time malware.
Device Security – Focus on growing class of malware that include inserts and attacks before the operating system starts, which endanger critical boot processes before any antimalware solution begins to function.
Recognising this need the Cyber Surakshit Bharat (CSB) programme was launched with the objective to educate & enable the Chief Information Security Officers (CISO) & broader IT community of Central/State Governments, Banks and Public Sector Undertaking to address the challenges of cyber security in partnership with the Industry. The key objectives thus defined were:
Create awareness on the emerging landscape of cyber threats
Provide in-depth understanding on related solutions
Applicable frameworks, guidelines & policies related to cyber security
Share best practices to learn from success & failures
Provide key inputs to take informed decision on Cyber Security related issues in their respective functional area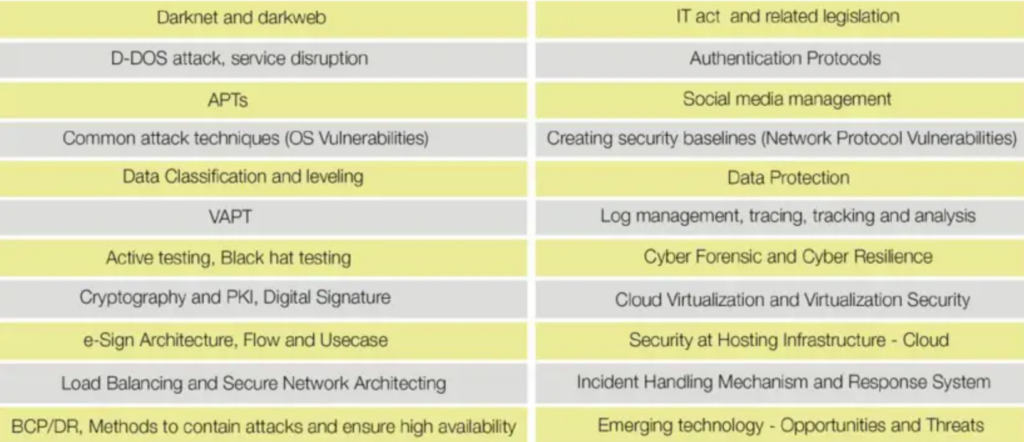 The training supported by a consortium of Industry partners is being conducted across 6 cities in the country over a period of one year with a goal of reaching upto 1200 CISOs. NeGD, an arm of Ministry of Electronics and IT will provide the logistic support in arranging the training programmes whereas Industry consortium will provide the technical support for the training. The training partners from the industry are Microsoft, IBM, Intel, PaloAlto Networks, E&Y and Dell-EMC. NIC, CERT-In and CDAC are knowledge partner from Government side.
Three batches of training has already been conducted and calendar for training up to November has been finalised.