Global Campaign to Raise Cybersecurity Awareness
This initiative aims to raise awareness of cyber-related threats and best practices worldwide and empower citizens with the knowledge and a sense of shared responsibility to practice safe and informed behaviors on the Internet. By leveraging expertise from international partners in the government, academic, nonprofit and private sectors, this cybersecurity awareness campaign initiative will work broadly with stakeholders to ensure a safer and more secure Internet for all.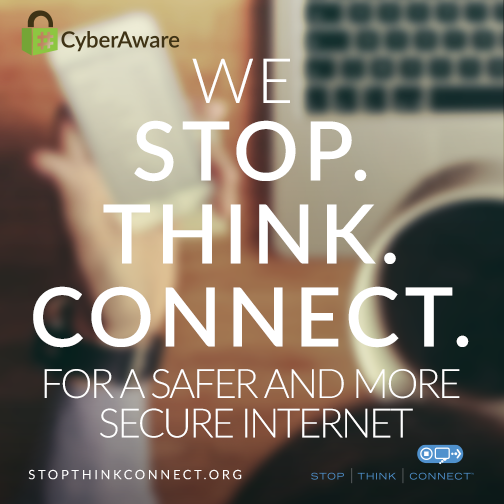 The role of Awareness Campaigns in promoting cybersecurity
The rapid growth and adoption of the Internet is creating an unprecedented opportunity for innovation and social and economic growth around the world. While there are undeniable benefits to additional users coming online, it also makes securing cyberspace more difficult. To address this challenge, many countries organize cybersecurity awareness campaigns, which aim to educate governments, private industry, educators, and individual citizens about potential problems they can encounter online and to understand their individual roles and responsibilities for creating a safer cyberspace.
Be a part of the cybersecurity awareness movement
Together with interested partners, the GFCE members will pursue opportunities for collaboration on raising cybersecurity awareness around the globe. Some possible areas for collaboration include:
Fostering cooperation and alignment where possible between Stop.Think.Connect.™ and existing cybersecurity awareness campaigns already underway in other countries.
Joint promotion of cyber safety resources, and best practices.
Coordinating cyber-focused events both in-person or via social media.
Encouraging global adoption of October as National Cyber Security Awareness Month.
Participants of this initiative will have access to the initiators' campaign materials and resources, and will be invited to contribute any relevant domestic and/or international campaign materials of their own. Additionally, the initiators are also committed to facilitating participation of interested entities' in the Stop.Think.Connect.™ Cyber Awareness Coalition.
This initiative aims to increase citizens understanding of cyber threats by empowering them to adopt safer and more secure practices online. It promotes the concept of cybersecurity as "a shared responsibility" whereby each individual, can makes the Internet a more secure experience for all users.
Primary outcomes in 2015 & 2016
The African Union Commission and the Republic of Georgia joined the U.S. Department of Homeland Security Stop.Think.Connect.™ Cyber Awareness Coalition.
The Commonwealth of Dominica and Jamaica joined the Stop.Think.Connect messaging convention as international partners.
Jamaica launched a Stop.Think.Connect website
OAS published a Cybersecurity Awareness Campaign Toolkit, both in English and Spanish, as a resource for countries to consider potential elements to include in cybersecurity awareness campaigns. This includes recommendations on how best to build a campaign that is:

geared towards specific target audiences
sustainable over a long period of time;
educate citizens; and
help build a national culture of cybersecurity
October 2015 as Cybersecurity Awareness Month marked the 5 year anniversary of the Stop.Think.Connect Campaign. Under the theme, "Our Shared Responsibility," there was a call to action for all global citizens to take basic steps to make the Internet – a vital resource for our personal, public and professional lives – safer and more secure. OAS as a partner continues to champion participation in Latin America and the Caribbean and was the host of the 13th staging of the launch of Cyber Security Awareness Month. Canada aligned its 2015 Get Cyber Safe Cybersecurity Awareness Month activities with the U.S. Stop.Think.Connect. Same will be done in 2016.
Canada Get Cyber Safe products, available in both French and English, allow for reach to greater audience.

Canada regularly shared Stop.Think.Connect content through Get Cyber Safe social media accounts
Get Cyber Safe regularly participates in #ChatSTC Twitter Chats.
U.S. embassies and consulates around the world promoted October 2015 as Cybersecurity Awareness Month by hosting discussions, competitions, guest speakers, and social media campaigns under the hashtag #cyberaware.Missions conducted outreach activity and engaged with local interlocutors in the private sector, academia, and host governments on cybersecurity policy and strategies.
OAS and U.S. Department of Homeland Security collaborated to hold the first international NCSAM event which included over 125 public and private sector participants, who discussed the importance of cybersecurity awareness raising. Speakers included White House Cybersecurity Coordinator Michael Daniel, U.S. Department of State Department Cyber Coordinator Chris Painter, U.S. Department of Homeland Security Deputy Under Secretary Dr. Phyllis Schneck, and U.S. Department of Homeland Security Assistant Secretary Dr. Andy Ozment, as well as Estonian President Toomas Hendrik Ilves.

Share materials and resources at the Dutch-Senegal GFCE initiative, "Progressing Cybersecurity in Senegal and West Africa," expert meeting in April 2016.
Expected outcomes in 2016
Coordinate activities and resources for Cybersecurity Awareness Month in October 2016, including outreach through mission networks abroad.
Build on Canada's Get Cyber Safe campaign through identifying new themes for 2016: Work and Personal Device Security for Small and Medium Businesses (Winter 2015-Spring 2016); Mobile Safety (Spring-Summer 2016); and Cyber ethics for youth (Fall 2016).
Increase accessibility to cybersecurity awareness resources and tools in English, French and Spanish by adding hyperlinks to participating members' campaign materials on the GFCE website.
OAS Cybersecurity Awareness Workshop — SEGURINFO Dominica Republic — TBD
OAS-led workshop on Awareness Raising — Mexico Cyber Security Week — TBD
Continuing to promote awareness of and participation in Stop.Think.Connect through bilateral and multilateral engagements.
Deliverables
Participating Members
United States
Canada
Organisation of American States
Participation in this initiative is open to all members of the GFCE.